Cement roof restorations involve the painting of a cement roof tile.
Undertaking a roofing restoration to the cement roof tile of your home when needed is a very important requirement for correct routing maintenance. The better maintained your roof, the less work (and money) is needed to keep your roofing functioning optimally.
At Guardian Roofing we handle the maintenance and repairs of all different kinds of roofing. We are experts in determining what is required to ensure that your property is being look after from the top down. When conducting an assessment of the roof, we will look at the following simple signs that a roof is in need of some tlc.
A cement roof tile is a very common roof covering material. It is hardy and cost effective.  They are laid as single tiles and then the ridge capping is bedded down using a cement base. This cement base is then followed by a flexible pointing compound. After about ten years, it is quite common for the cement to start cracking and deteriorating. At this stage you will notice that cement bedding and pointing will be falling out in places, ridges shifting from their positions and roof tiles slipping or working loose from corners. This is the time when you will need a cement roof restoration.
Our Cement Roof Restoration Process
Pressure Cleaning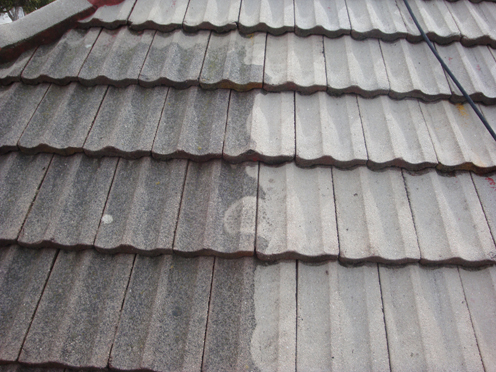 First your cracked roof tiles which may leak are changed. Then the roof is cleaned using at least 3000 psi of pressure to remove dirt, grime and moss build up in preparation for roof painting.
Bed and pointed
Your ridges, valleys and gables are then Re-Bedded where any unstable cement is present and fully Re-Pointed using an acrylic flexible pointing compound (as per Australian standards on new roofs). It is also recommended that we change any rusted valley irons at this point.
 Tiles changed and valley renewed
Next up we replace all your broken tiles. Your roof is blown down and your gutters are cleaned.
Sealing and Painting
We then prime your roof with a high quality primer so that the paint will adhere to the tiles with the strongest possible bond.
We then spray 2 to 4 coats of RGL Adhesives acrylic roof paint or other approved brand depending on the condition of the tiles and of our clients choice, whilst allowing about an hour to dry in between applications.
We then spend as much time as it takes to make sure you and your neighbors properties are left clean and tidy.